IMPORTANT CUBAN HISTORICAL EVENTS THAT SHAPED MY LIFE AND THIS BOOK
OPERATION PEDRO PAN (PETER PAN) CUBA-MIAMI 1960-62
"Peter Pan Children" were not children who loved The Peter Pan character, we are not talking about a Disney fairy tale, those were Cuban children, 14,000 of them, who, under what was called Operation Peter Pan by the CIA, were sent from Cuba to Miami by their parents to save them from being taken from their homes and sent to Military and labor camps. The operation took place between 1960 and 1962, and was designed to transport the children of Cuban parents who opposed the horrible revolutionary and communist government led by Fidel Castro and Che Guevara (yes, the one with the beard and the "Boina" or beret whose photo you see everywhere like a hero).
Those two were no Heros. They were, and one still is, as bad as Hitler and because of them, over 14,000 Cuban children between the ages of 5 and 18, were placed with relatives, friends, foster care or group homes in 35 states in the USA.
It was traumatic to my sisters and to me to leave Cuba with our entire family!! Imagine how much children of different ages leaving without family members.
worse, without any mother, father, grandmas, grandpas, cousins and friends. And without speak- ing English, and without knowing for how long or why this was happening.
I really suffer when I hear that word, Peter Pan, because I look at my grand kids and I think how would I feel if my 8 years old grandson would have to go by himself to live in any country where an- other language is spoken, without any of us, with- out his much loved school and surroundings! And what would go through that poor kid's mind? Sad, extremely sad.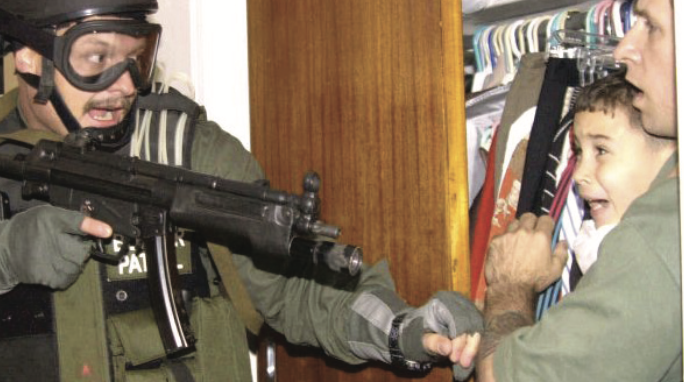 On November 21, 1999, Elian González, his mother, and twelve others left Cuba on a small aluminum boat with a faulty engine; González's mother and ten others died in the crossing. Elian González and the other two survivors floated at sea until they were rescued by two fishermen, who turned them over to the U.S. Coast Guard. Marisleysis Gonzalez, a close relative of the boy living in Miami became his caretaker (seen above) and Elian adjusted very well in a short time to his new family in Miami, he did not want to go back
to Cuba, and his mother who lost her life to bring him to a free Country would not have wanted him to return.
The Castro government sent his father and other relatives, all expenses paid to Miami, to stage a show and demand the return of the boy to Cuba, and to his father who hadn't cared about his son until then but was being paid by the Cuban government to play their game.
Janet Reno did not take into consideration that Castro will kill children and parents trying to leave Cuba, as in the tug boat incident, but wanted Elian back only for show. His mother's death while trying to bring his son to a free coun- try was not taken into consideration. Only a woman who has never been a mother could have done that. I will never forgive Janet Reno. We cried when we heard the news!
THE BAY OF PIGS INVASION- 1961
The Bay of Pigs invasion and our dear cousin Carlos Solis Shelton who disappeared at 22 years of age. He died in vain in April 1961.
...AND FINALLY, A HAPPY ONE.
"Tere, anda más despacio... párate a oler las ores" Mami, olí las ores... en noviembre 25, 2016, cuando al fin murió Fidel. Pero lo que le puso el merengue al cake, (ya que esto es un libro de recetas de cocina), fue ver como el jeep ruso que llevaba sus cenizas se rompió a mitad de la procesión funeral y los soldados tuvieron que bajarse y EMPUJARLO!!! Una foto que le dio la vuelta al mundo!!! QUE CLASE DE PAPELAZO, sólo en la Cuba de los Castro puede suceder algo así.